BARROW BOY IS GB'S NO. 1
Dave Collins is currently ranked Number One in the arduous sport of cyclocross.
He has just returned from Monopoli in Italy where he represented Great Britain in the World Championships. This is the third time he has cycled for Britain in these competitions.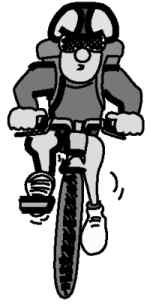 Dave was a pupil at Humphrey Perkins and later went on to Rawlins. Needless to say, he was a very keen cyclist from an early age. He lived in Barrow with his mum and dad until he was 23. Now at 26, he lives in Hinckley and by day is a kitchen fitter. He must be a fitter kitchen fitter than most! His proud mum and dad still live in Beveridge Street.
Cyclocross is one of the most difficult forms of cycling. You spend about an hour cycling flat-out but little of this time is on tarmac. Most of the time, you are trying to make progress on mud and rocks and even planks of wood that have been put down as obstacles.
It sounds like a job for a mountain bike but, no, you actually ride a racing bike. The only concessions to the difficult terrain are thicker tyres. And when the going gets really tough, you pick up your bike and run with it.
The Barrow Voice team would like to offer Dave our best wishes for his future competitions. Itís good to think that thereís someone from Barrow out there flying the flag.
Judith Rogers
JOHN HARDY SMITH
Barrow Voice lost a loyal friend and supporter when John Hardy-Smith died in January this year.
John was brought up at Barrow House, a handsome building which stood where Holbourne Close and Cramps Close are today. The cedar tree is about all that remains from the time but when John returned to live in the village with his wife Marie some years ago, he shared with us memories of the Barrow of his boyhood and some stunning photographs of the interior of the house.
This was followed by other articles about Bygone Barrow, TocH, evacuees, his career in the leather industry, war time service and a daring pre-war flight across the Channel.
John always welcomed visitors, especially after Marie's death. He was eager to hear your views of the latest government blunder or royal scandal and loved it all the more if you disagreed with him! He was involved with the Lions right up to his death and when younger he had played a leading role in Leicestershire and had represented the organisation all over the country and abroad.
John loved to reminisce about the past but never lost interest in the Barrow of today and looked forward to receiving news through Barrow Voice.
FJT
LAST ISSUES LUCKY COMPETITION WINNER
The winner of the meal at the Hunting Lodge was Georgina Harris from Warner Street.