PLOD OFF THE PUDDING 2003
The day after Boxing Day 2002, saw the return of the Plod off the Pudding walk which was so popular with villagers in the early 1990's.
After participating on so many of the footpath walks last summer I was approached by the Parish Council and asked to consider leading a walk during the period of the Christmas holidays. Having always enjoyed these winter walks on previous occasions I really had no hesitation in accepting and had a couple of ideas about possible destinations.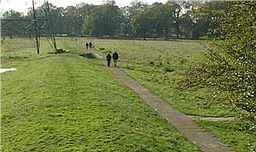 My original plan was to head for Swithland reservoir as in dry weather there is a good route with some spectacular waterside views, short steep climbs and a glimpse of the steam train as well.
However, since the pattern of flooding across the Soar valley can be such a problem nowadays, after heavy rain the water level rises and fields remain waterlogged for weeks rather than days, I had doubts about whether my planned route to Swithland would be too "soggy". Also, the round trip is approximately 7 miles, quite a long way for young children, so was prepared to make changes, even at the last minute if necessary.
I arrived at the Old Station car park on a surprisingly sunny morning to find quite a crowd of people, of all ages, ready to start. There were two families with fairly young children which swayed my decision not to head for Swithland. Instead we travelled to Quorn via The Slabs.
At Quorn we took a right turn into Mansfield Street and via a series of ìjitties" and a footpath through the Farley Way estate, reached the A6 at the end of Woodhouse Road. From here we followed a way-marked path, across the fields to Woodthorpe. We managed to get a sight of the steam train here and also checked on the progress of the construction of the Epinal Way extension.
After a brief refreshment stop on the railway bridge, in the hope of seeing another train, we carried on to the A6 at the Bull in the Hollow. After a very tricky crossing of the main road we took another way-marked footpath, heading towards the canal. We had another short stop, this time for the birdwatchers, to see if they could spot anything unusual at the gravel lake. There was also a short debate to decide whether to go across the fields to Flesh Hovel Lane or to continue heading for the canal. We decided that conditions underfoot would be better along the canal.
A short, sharp shower of rain caught us on this stretch but did not cause any major problems and our group of 25 walkers all arrived safely back at Barrow at 12.15 p.m. still smiling and no sore feet.
Thank you to everyone who attended and particularly to Joyce and Terry Noon for their knowledge and advice about suitable routes. I hope that everyone enjoyed the event and I am looking forward to next years POTP already.
Finally, to the person who wrote to me last September about the demise of the footpath at the end of Mill Lane. I have passed your comments to the Parish Council who I am sure will raise your concerns with the County Council who have responsibility for this right of way.
BARROW UPON SOAR NEEDLECRAFT GROUP
We started as six and now number nine,
We meet once a fortnight and get along fine,
We sew, knit and natter and all agree,
When it is time for a good cup of tea,
We encourage each other, enjoy all our meetings,
And to all folk in Barrow we send New Year Greetings.
PROGRAM OF FOOTPATH WALKS 2003 - 25th YEAR
BARROW UPON SOAR PARISH COUNCIL RIGHTS OF WAY
The following programme of Parish Walks and other interesting walks has been arranged for the coming months. Members of the public are welcome to join and enjoy these pleasant country walks and should arrive at the starting point. All walks start at 7.00pm sharp unless otherwise stated.
Thursday 8 May 2003 - BEATING THE BOUNDS (Perimeter of Barrow) - 4 MILES
Meet at Humphrey Perkins School. Out via l.13 and l.5, 1.20, l.25 returning via l.19 or the towpath and l.18 with a refreshment stop at the Navigation Inn.
Tuesday 20 May 2003 - WALTON - 41/2 MILES
Meet at Humphrey Perkins School. Out via l.13 to Strancliffe Lane, l.5, l.12, l.14a and l.4 to Walton. Refreshment stop at the Anchor, Walton returning via l.4 to Cream Lodge, l.32 and Brook Lane.
Monday 9 June 2003 - SILEBY MILL - 5 MILES
Meet at Breachfield Road/Melton Road Bridge. Out via l.28 to Mountsorrel, l.26, l.63 to Sileby Mill. Return via Mountsorrel Lane, Slash Lane l.31 to Barrow.
Wednesday 25 June 2003 - GYPSUM AND OLD KENNELS - 4 1/2-5 MILES
Meet at Breachfield Road/Melton Road Bridge. Out via l.24 and Sileby Road, l.4 around Gypsum site. Returning via l.32 to Brook Lane.
Thursday 3 July 2003 - WALTON AND PRESTWOLD - 5 MILES
Drivers please note cars may be needed to take walkers to the start point at Walton Village Hall. Meet at the Three Crowns car park where all cars will leave at 6.45 for Walton Village Hall. Out via H.98 to Prestwold Old School and H.99a. Refreshment stop at the Anchor Inn, Walton.
Later walks will appear in the Summer Edition
LEADERS REQUIRED PLEASE CONTACT THE CLERK: LESLEY BELL 01509 416016
Please note:
Dogs are allowed but must be kept on a lead at all times
Suitable clothing and footwear should be worn
Routes can be changed at the leader's discretion; Mileage figures are approximate
A refreshment stop will be arranged when & where convenient, depending upon the route, time & weather.
Neither the Parish Council nor its Officers accept any responsibility for or on behalf of participants
DID YOU KNOW?