British Gypsum's Barrow upon Soar team gift
time and money to local community projects
In their ongoing quest to always be a good neighbour, British Gypsum's Barrow upon Soar team has supported several community projects this year, including restoring a bridleway, helping with the restoration and preservation of the local cricket club and fundraising for two local charities.
The team has been dedicating their time, along with building materials, to good causes, to help leave a positive legacy for the local community. The team has chosen the Barrow upon Soar Community Association (BUSCA) and the Carpenter's Arms as their charities to champion for 2021 and 2022 and will be fundraising throughout the year to support them. The Carpenter's Arms, in Loughborough, supports people struggling with addiction, and the money raised will be used to help more people to overcome addiction and live healthy, happy lives. BUSCA runs community activities and events in Barrow, and the funding donated will support their programme for 2021 and 2022.
As a part of this positive legacy, earlier this year the team at Barrow upon Soar worked with a local Rights of Way Inspector and Leicestershire County Council to make a local bridleway more accessible for users, whatever the weather. Situated to the northwest of British Gypsum's Barrow upon Soar plant and next to Seagrave Nurseries on Melton Road, the path had begun to flood this past spring due to the heavy rainfall.
We arranged for contractors to cut back vegetation and dig away the wet areas along the bridleway, which is located on land owned by British Gypsum, to make the pathway more accessible for users. A French drain was also installed on one side of the path to help eliminate excess water and crushed stone has been laid down to improve the path's appearance. Now, users no longer have to contend with muddy boots or risk slipping over in wet weather, allowing everyone to better enjoy Barrow's natural beauty. A new gate was also installed, with a catch placed higher on the replacement gate, making it easier for horse riders, particularly those who are less able-bodied, to use without needing to dismount.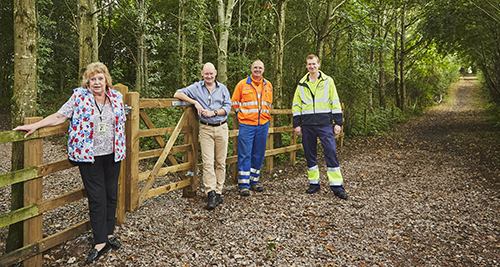 For their next project, the team has donated funding and materials to help restore Barrow Cricket Club. The donation includes £1,000 towards the Cricket Pavilion, as well as gifting materials towards the restoration of the pavilion as a whole. The project aims to be completed by next spring, ready for the team and local community to enjoy next summer.
But the team's desire to help others also extends to national projects. The Barrow upon Soar team also recently held a bake sale for the 25th anniversary of construction industry charity CRASH, which supports homelessness charities and hospices with life-changing construction projects. The site's bake sale raised £460, which will help CRASH to fund a further 25 construction projects across the UK.
Plant Manager Greg Beré said: "It's important to us that we support the community living and working around our Barrow upon Soar site.
"We want to leave a positive legacy for future generations to enjoy, whether that means gifting our time, money or materials to make that happen."
"Whether fundraising for local charities or supporting community projects, our aim is to be a good neighbour and leave a positive legacy for members of our local community for years to come."