Winter 2021 Issue - 166
The Secret Garden café
a new community hub for Barrow

When I first popped into this attractive new café to speak to Katie Edwards, the proprietor, the place was positively buzzing. Customers have certainly tracked down the secret. At 11.00 in the morning, some groups were tucking into breakfast while others were munching lunch. It looked very appetizing. My next visit coincided with afternoon tea complete with dainty sandwiches, cakes and teapots.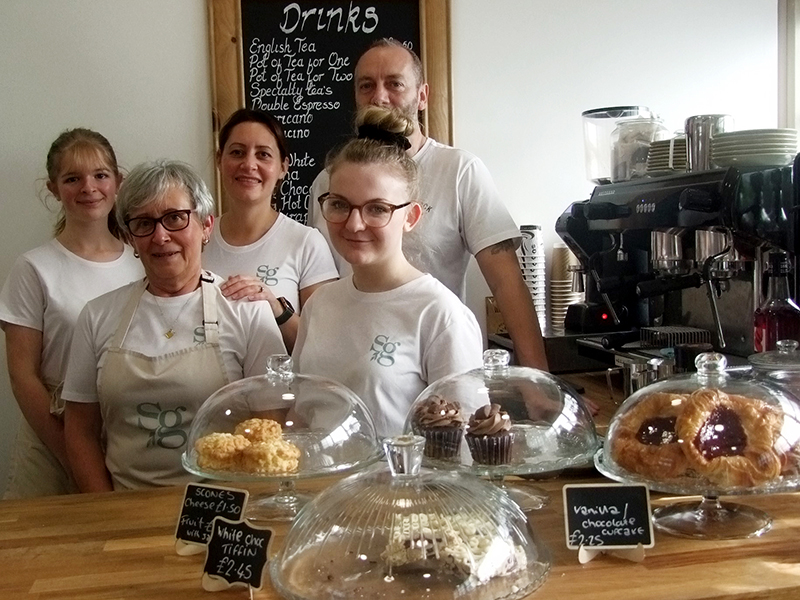 Katie and husband Jason opened the café on August 3rd, just in time to catch the holiday trade. They have been busy ever since. Katie was born and educated in Barrow. She trained in Travel and Tourism and until recently was store manager at Kuoni Travel in Leicester. She was already a people person by nature: just right for creating a welcoming atmosphere in the café. With the first lockdown and closure of tourism, she opened a baking business, making and delivering cakes to family and friends. While delivering a cake to a friend she learnt about 17a, sandwiched between Victoria Jane and Taylor's Florist. It was available to rent. Katie and Jason had long dreamed of opening a café and here was the opportunity they had been waiting for.
Jason, a real handyman, was able to spend much of the pandemic fitting up a kitchen, counter and other café necessities while Katie sourced the furniture. They were ready to open this summer. Katie makes all the cakes and mother, Bev, does all the cooking. Jason helps clear up at the end of the day if his work allows so it is truly a family business.
The café has filled a gap in the market because it can open throughout the year providing full meals. The menu is extensive and caters for veggies and vegans as well as discerning coffee and tea drinkers. Jason explained that any food brought in comes from local sources.
The building itself was one of several frame-work knitters' shops in Barrow. Photos in the café show the building as it was before being cleared in the 1990s. Frame-work knitting was a very early venture into mechanisation of this cottage industry. The building is set in a surprisingly large plot of land that runs down to the surgery car park. Katie and Jason have plans to create a lovely spacious garden with more tables. The café has already become a place for people to come together.
Barrow Voice wishes Katie and Jason every success with their "community hub" café.
Judith Rodgers