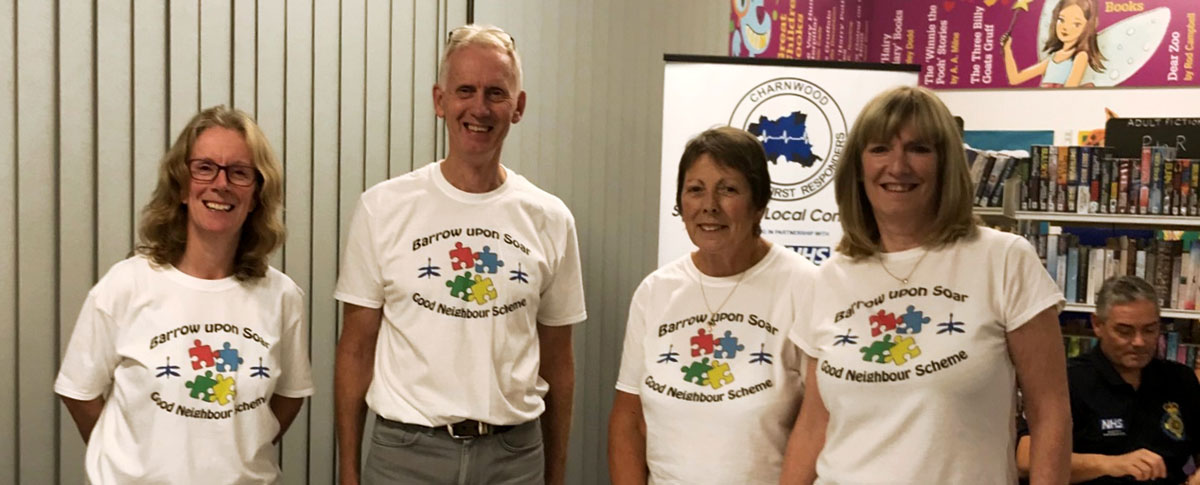 We've been planning and working away for most of the year and we are now ready to launch! Barrow upon Soar Good Neighbours Scheme will be open to help those that need a little bit of support from December.


Following on from a successful recruitment campaign at Barrow Street Market in the summer, we have held a couple of Drop-In sessions at the Community Library which have been very well attended.

People were able to talk to volunteers from nearby Good Neighbour Schemes in Woodhouse Eaves and Rothley that have been successfully supporting their villages for some time. We also had fantastic support from Dementia Friends, Charnwood First Responders and Leicestershire Police Scam Awareness Team.

What types of support will be available?
• Befriending – cup of tea or a chat, reading a paper • Transport – a trip to the doctors or hospital, or hairdressers
• Household tasks - such as DIY, Gardening or help with shopping, • Forms & IT Help - writing a letter, using the internet
We have received funding from the Parish Council and SHIRE Community Grants which have allowed us to set up a new website, and buy IT Equipment and Support, as well as start to get all of our volunteers DBS checked. It was recently confirmed that we have been chosen to benefit from the next round of the Co-op Local Community Fund. We plan to use these funds to provide days out, including transport, to some local visitor attractions such as Bradgate Park. The funding round runs until October 2020. Co-op Members can choose us as their local cause. If you are not already a Co-op Member please join to help raise funds for our scheme and help us to make more great things happen in our community.

If you would like more information email support@barrowuponsoargns.org.uk, call 07771 625 591 or visit our website www.barrowuponsoargns.org.uk

Annette Richardson