For the second year running, Barrow upon Soar entered the East Midlands in Bloom competition. The judges were in the village in July meeting representatives of our many community groups. The awards ceremony took place on Wednesday 18th September in Chesterfield, where we were awarded a silver medal and also won the category for most improved entry. Barrow Open Gardens also received a judge's award to recognise their 20- year anniversary – a very well deserved recognition.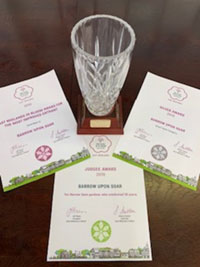 Congratulations to everyone involved and thank you to all the community groups that help to keep our village so vibrant!
We've started work already on some of the ideas for Bloom 2020.
We've replanted three shrubs removed from Jerusalem Island in the jitty at the top of New Street. We hope to plant a variety of wildflowers here if we can keep the nettles under control! We're also planning on creating a small area of wildflowers in Millennium Park to allow us to master the maintenance required to keep them looking their best for as long as possible.
Towards the end of November we have a Community Project to get the muddy path at the bottom of Mill Lane play area re-gravelled to make it accessible again for pushchairs and motor scooters. Tarmac is supporting us and we're in discussions with a local tree surgeon to remove some of the overhanging tree canopy where possible. Once all the planning details are confirmed we will be asking local businesses and residents to come along and join in with the project. Posters will be in the Library, Parish Council Offices and also on social media.
We're asking local children to be involved with planting Daffodil bulbs in KGV. Again, more details to follow on posters and social media.
We've talked to village pubs about having a fun Best Pub Planter/Basket competition. We are running this event alongside the Barrow Open Gardens weekend. Come along and choose the Pub with the best display.
What do you think of the idea of having a Community Garden or Orchard in the village? We are hoping to get a field on Willow Road once the Parish Council has confirmed plans for adopting the area. Please let us know if you would support this.
If anyone would like to be involved please get in touch with the Parish Council.

Annette Richardson