This issue's Featured Family is Gwen and Brian Henman who have lived in their current home for 52 years.
Many people in the village know Brian Henman as a stalwart of Barrow's parish, educational and charitable organisations (cofounder chairman of Hall Orchard PTA and acting as governor to both Humphrey Perkins and Rawlins; 31 years serving on the parish council, 25 years of which he was chairman; 20 years as a borough councillor during which time he held the office of Mayor of Charnwood; and trustee chairman of local charities including the Bishop Beveridge Club).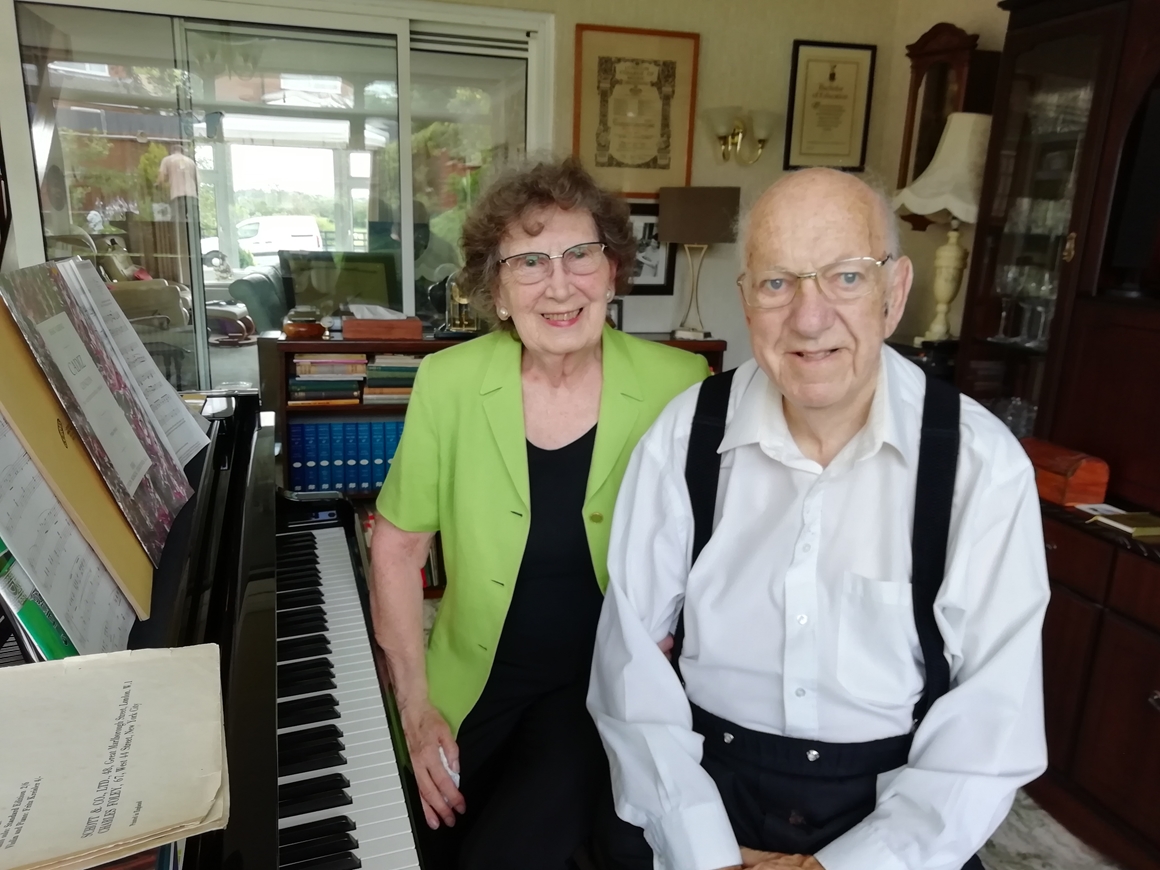 Brian considers one of his biggest civic achievements to have been getting the British Gypsum entrance/exit site changed from the bottom of Babington Road, which would have meant all the traffic coming through the village, to its current position at Paudy. It took about three years and Brian went to every hearing on behalf of the parish council. The company was so impressed with him that he was invited to become chairman of the British Gypsum liaison committee. He could not have done all this without the constant support of his musician wife Gwen. Many people in Barrow will have learned to play the piano with Gwen until Covid lockdowns nudged her into retirement.
Now both are approaching their 90th years and enjoying some quieter times whilst remembering their year as Charnwood Borough's Mayor and Mayoress (1988-89) during which time they completed 511 engagements whilst both were in full time employment. They gave me a flavour of one of their days, which people often thought was filled with banqueting and champagne drinking. The reality was generally anything but. The day of the Real Ale Festival in Loughborough Town Hall started at 11am. Brian was eyeing up all the samples and was just about to taste his first when the glass was taken from his hand and he had to move on to the next engagement. This was the opening of a new restaurant; special guests were about to start on the enticing buffet when, you guessed it, he had to move on. This went on all day until at 9.30pm, he and Gwen arrived at a skittles evening in the village. At last, they could eat something. Cold faggots and peas! As Mayor and Mayoress, they made one of the first official visits to Epinal, Loughborough's twin town. They arrived on the Friday night, attended 12 events and were back home by Sunday evening. Gwen did get to inspect Epinal's firemen during that time. So, it wasn't all hard work!
That's the official face of the Henmans, but I wanted to know more.
Brian was born in the Barrow scout hut – well, in a house where the scout hut now stands. Gwen is originally from Leicester but her family moved to Cossington when she was 16. Gwen was a gifted piano player and had dreams of being a concert pianist. The day her family moved into Cossington, she was playing the piano live at the BBC in Birmingham. Word got out in Cossington and within a few weeks she was spending her days at school and her spare time giving piano lessons.
It was music that brought the two of them together. Brian had an American Square Dance band – all the rage at the time. In January 1953, The Half Beats (as the band was called) played at the youth fellowship in Cossington. One of the players smugly handed Gwen some music, saying that 'nobody would be able to play that'. She calmly took it, sat down at the piano and played it on first sight reading. Brian was so impressed, that not only did he invite her to join the band, he worked hard to get her to agree on a 'first date' in May and in September of the same year, they got married.
Brian, when not calling with his band, was an apprentice coach fitter at the Brush Works. When that closed in 1953, he retrained as a building and architectural surveyor and set up his own business in 1977 and in 1982 he set up the Barrow upon Soar Ukulele Group, which is still going. Gwen, who never intended to teach, became a junior school teacher but continued composing and playing piano music. They have four children, three of whom live relatively locally: Chris, now a self-employed plumber; Anne who works in finance; Carolyn is a farmer and then Martyn teaches sailing in Thailand, he is also the most musical one of the four. They have nine grandchildren and two great grandchildren.
"It's been a colourful life," Brian told me.
Karisa Krcmar