More than just a helping hand
If there is one thing the past few weeks have taught us, it's that little things can make a big difference.

Earlier this year, we gave little thought to mundane activities like popping to the shops or fetching prescriptions - until we were confined to our homes, unable to get out. But as Coronavirus started changing the way we live and the Government's "Stay Home" message moved from being advisory to instructional, we suddenly realised that popping to the Co Op for the second time in a day was not on the "permissible" list. Neither was getting a hair cut or meeting a friend for a cappuccino!

A conversation in February between Barrow mums, Sarah Pitman and Kelly Ruthven, led to the formation of a Facebook Group called Barrow upon Soar Helping Hands, which now has 1100 members. Kelly mentioned to Sarah that she could not find any Calpol for her baby. Other mums were battling to get nappies and various items, and pair thought a sharing of ideas and on Facebook would help.

They had no idea it would grow to become the go-to group in Barrow, where people can find a solution or a suggestion for almost anything - from help with shopping, to prescriptions being fetched and, more recently, uniform bags and headbands being produced for NHS workers.

Administered by Sarah, Kelly and Shelley Cross, it has become a slick operation, with many hard-working volunteers, all of whom do their duties while on their daily exercise outing – sometimes with husbands, children and dogs in tow.

Back in early March, when the group was new, the Conservative Club had become a depot for food donations but, as Baptist Church was also receiving food donations, and it was decided that, to prevent duplication, the church would be the drop off point for food and Helping Hands would give assistance with other requests.

The church and Helping Hands wanted to get the message of support out to the whole village, not just those on Facebook, so Community Response leaflets were printed by the church, with a call for volunteers to distribute them to every home in the village.

"We asked volunteers to come to the church on a Saturday morning and sign up, and the response was incredible," says Shelley, who co-ordinated the leaflet drop. "Within 20 minutes all the leaflets were out for distribution."

Since then, the group has fielded a vast array of requests, from "where can I get flour?" To "has anyone got a wheelchair ramp so a lady can get into her garden?", as well as countless offers of help, people donating children's books and jigsaws and of course fabric for NHS bags. It has recently added updates from local businesses and takeaways, to give them support too.

NHS bags and headbands have become a big project for Helping Hands. It started with a request that drawstring bags be made, into which NHS workers could place their uniforms at the end of a shift, ready to go through a hot wash when they got home. Medical staffers and care workers were also finding that the elastic from masks was causing abrasions behind their ears, so headbands were suggested.

Sarah posted a request on Facebook.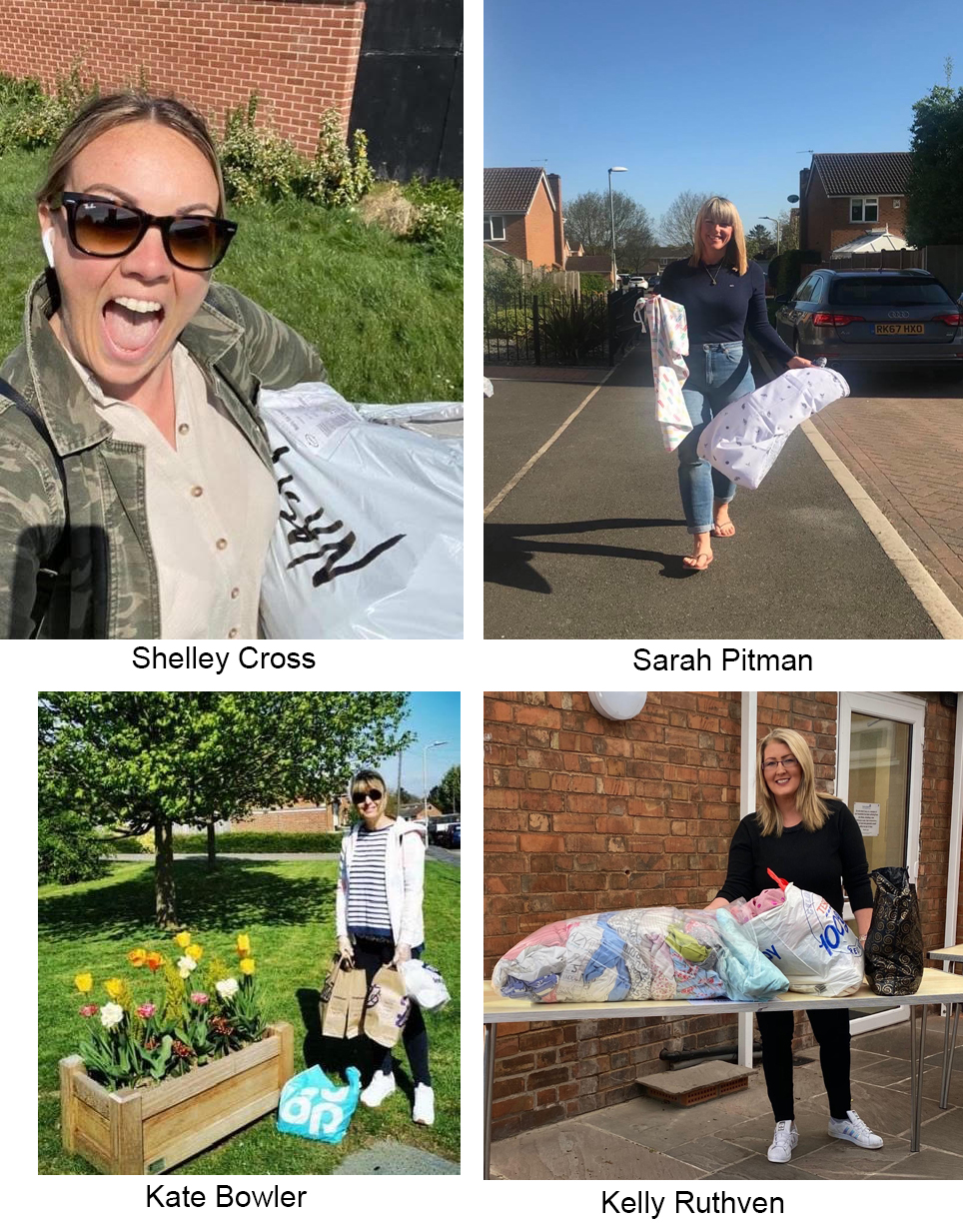 "The response was overwhelming and we started collecting fabric, elastic, buttons etc," she says. "A pattern was created and soon hundreds were being produced, all by women in the village."

The admin team and volunteer Carla Baker have collected about 1000 bags from seamstresses for delivery to NHS staffers in the village, who distribute them to the three main Leicester hospitals. Donations of fabric, which must be able to withstand a 60 degree wash, can be left at the outdoor table at the rear of the Baptist Church in Beveridge Street. There is now a small army of amazing women in the village who are sewing hundreds of uniform bags and headbands and NHS staff are delighted with the results, judging by the happy pictures on Facebook.

Dave Gennard has been making boot removers, which have been increasingly popular with ambulance staff.

Another Helping Hander is Kate Bowler who does prescription collections from Boots. A mobile hairdresser and cleaner, she started fetching prescriptions for elderly clients and then started collecting for people who had sent requests to the group. In the early days, she would spend up to an hour in the chemist queue but that has been streamlined now as she works in collaboration with chemist staff.

"I text the order through and, when I get to the chemist at 9.45am, the order is passed to me through the back door," says Kate. "Everything is confidential and I delete the details from my phone once the prescription is delivered."

Kate is not the only prescription-collector. Several NHS volunteers also provide this valuable service to vulnerable people and those over 70. The Helping Hands team has a morning meeting and discuss and divide up requests. They also liaise with Rev Ben Haldane of the Baptist Church (see accompanying article on the church's food bank).

"We plan around our walks and try to reduce exposure. It's our way of helping people to stay safe," says Sarah.
Residents of Barrow, please put your hands together for the hard-working volunteers of Helping Hands!
• For more information see Barrow Upon Soar Helping Hands on Facebook or call the helpline on 07395 902961.

Lindsay Ord