Summer 2021 - Issue 164

Arbres fruitier français sur Melton Road. Oh la la!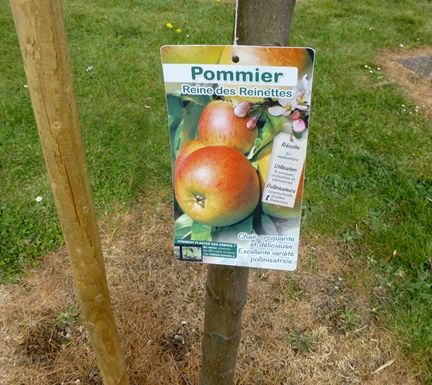 French fruit trees on Melton Road
Have you noticed them? There are 25 planted at the higher end of the open grassy ground just opposite the entrance to the Jelson Poppyfields estate. The trees do enhance the area as before there was simply grass. There are apple, pear, cherry and plum trees and it's good to see that all are doing well. I first noticed them in January when they were skinny saplings, each with a label at its foot. The names were glorious, so I wrote some of them down: an apple Pommier Reine de Reinettes; a cherry Cerisier Bigarrreau Reverchon; a pear Poirier Bonne Chretien; and a plum Reine Claude Doree. It started me thinking. Why have French fruit trees been imported when, as a country, we have so many fine fruit trees of our own? Think of the Golden Pippin? And the carbon footprint? Why increase it by importing from France?
The answer, it seems, is that last year, when the company, idverde, were looking for containerised fruit trees of the right size none could be found in England. I learnt this from the company's community engagement officer Nicola Clarke after writing to her to find an answer. idverde, the company's video tells me, is Europe's leading provider of grounds maintenance services and landscape creation projects. It is a large company with an annual turnover of 450 million euros and a staff of 7,000. It operates throughout the UK, France and the Netherlands. It is committed to protecting and restoring biodiversity and improving its carbon footprint. The request to plant trees came from their client Charnwood Borough Council. It seems that normally they would have planted English varieties but all that were available at the time were the French.
So now you know. Au revoir.
Gaynor Barton