Summer 2021 - Issue 164

Small breweries - but not small beer
Although traditional artisanal brewing has existed for centuries, the movement of microbreweries as we now know them (small and independently owned) began in the 1970s. Instead of brewing vast quantities of the same beer, microbrewers generally are enthusiastic about new flavours and experimenting with different brewing techniques.
The pubs and restaurants are opening, and we can once again enjoy meeting up with family and friends in the social environment of a pub garden. We are lucky in Barrow that we have pubs with attractive outside areas. Sometimes, though, it's nice to invite friends to your own place for food and drinks and as we move towards more opportunities to socialise I decided to investigate a couple of the small, familyrun micro-breweries in Loughborough from where you can buy a range of beers and other drinks. I have to admit an interest – I have enjoyed beer from both Charnwood Brewery and Moonface Brewery and Tap, so I write from experience.
Charnwood Brewery, started by the Reed family in 2014, brews on Belton Road Industrial estate in Loughborough where they also have their shop. They sell their beer to pubs, restaurants, shops and direct to people's houses. Andrea Reed started her working life as a nurse, so she knows a thing or two about good health and a clinically clean place of work. As head brewer, she has created national award-winning beers, the first for an American Pale Ale (APA) within a year of opening. Many awards have followed for APA; India Pale Ale, Blue Fox and Liška (pronounced lishka, the Czech word for 'fox') a beer made from Czech hops. The most recent awards were in 2020 when Salvation won best Golden Beer in the Champion Beer of Britain, East Midlands and Vixen came third for Best Bitters.
These days, Andrea is supported by Andy Hambleton and the two of them love developing recipes for a range of different permanent, regular, seasonal or occasional beers. Their beers range from pale and golden through copper and ruby to dark beers like their Black Hen (my personal favourite) and a special golden Blue Fox which celebrates the achievements of Leicester City FC.
Charnwood Brewery also supports two local charities: Rainbows Hospice for Children and Young People through their beer 'Over the Rainbow' and they are about to launch a new beer, called It's Not Rocket Science, with LOROS to support the Rocket Round Leicester project.
Andrea's husband, Andrew (these names must be confusing on occasions!), told me his main job that he takes very, very seriously is quality control of the beers being produced. He also is responsible for sales, marketing, finance, logistics, planning, and development and, when he hasn't been doing too much quality control, he enjoys driving the fork-lift truck. The couple's three grown-up children Millie, George and Alexander muck in and help when and where needed and Liz joined the team to focus keeping track of bookkeeping, systems ... and Andrew.
The brewery and shop on Jubilee Drive offer bottles, bag-in-box, minikegs, wines, spirits, gins and cider not to mention merchandise and gift boxes, but the Charnwood Brewery also has two established micropubs: The Sorrel Fox in Mountsorrel and the Hall Croft Tap in Shepshed. The Reed family is currently trying to establish premises in Barrow. I am looking forward to that!
---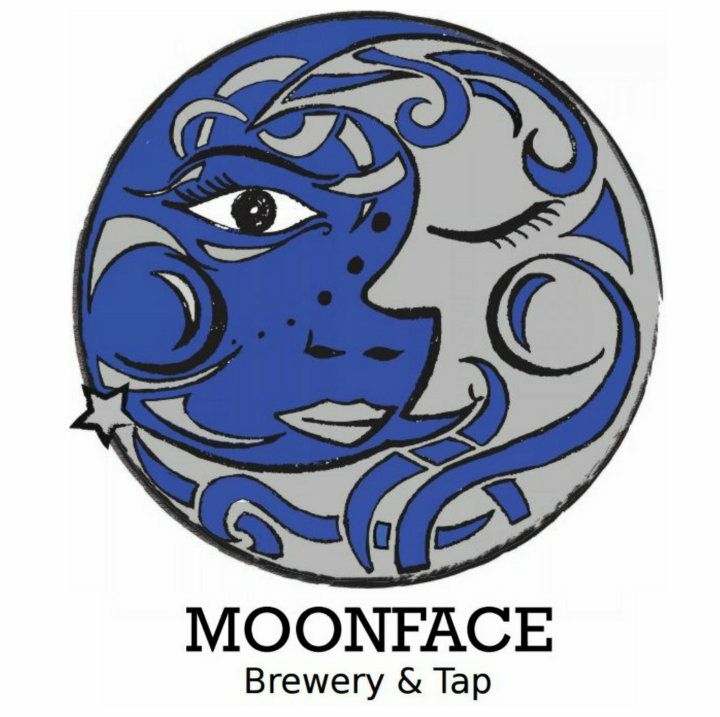 Moonface Brewery and Tap is also a family run business with husband-and-wife team Pete Davidson and Lisa Donaldson being equally passionate about brewing unique and interesting beers. Lisa was a teacher for 20 years and kindly agreed to sample Pete's homebrew until they decided to turn professional together. They are relatively new to Loughborough (Moira Street) and still small, but although they only opened in October 2018, they have already won a 2020 CAMRA award. At the time of writing, the bar is not able to open, but I joined a small, socially-distanced queue at the brewery door to buy my two pints of London Porter in a plain bottle with just stickers on to show what it was. It all felt rather fun and clandestine – but totally legal, I must stress!
Porter was developed in London in
the early 18th century. Its name
comes from the fact that it was a
popular drink with London's street
and river porters.
Their brewing has been limited during Covid, but they put out a regular listing of what's available on their Facebook page. Their beers range from a Citra table beer at 2.6%, which is typical of the kind of beer drunk by the whole family in 19th century England when water was too dangerous to drink; to a hoppy and fruity 9.6% Russian Imperial Stout.
Unique to Moonface Brewery is their Hlaf beer. This is a tasty, light, pale ale made from surplus bread supplied to Pete and Lisa from The Green Place in Sileby. This bread is added to a blend of English hops. Hlaf is the old English name for 'loaf'. It's 20% bread but 4% proof. What's more, it's made with vegan finings (often fish scales are used to clear cloudiness from beer and wine) so you can enjoy this beer without worrying about animal products being used. You can buy it direct from Moonface or enjoy a glass at The Green Place when it is available at their events. That's the joy of local recycling and small businesses working together.
If you want to be able to offer an interesting cider to your guests when you entertain at home, then Moonface also sells Snailsbank cider from Herefordshire (strawberry and lime is very tempting) alongside cider from other small, independent makers. Please remember to enjoy your beer and cider. Drink responsibly.
Karisa Krcmar