Summer 2021 - Issue 164

Memories and gardening

Dementia can mean the sad loss of memories but Mairi Taylor found that choosing and sending flowers that her mother loved and grew, has helped her mother to reminisce and connect to memories of shared times. In this article, Mairi talks about the benefit of gardening with people with dementia and their carers.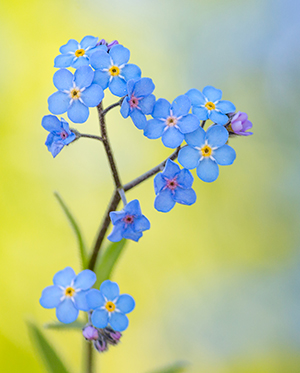 One of the biggest benefits of gardening is maintaining physical activity, cognitive function and social interaction all of which help someone living with dementia to remain stimulated, valued and helpful. When I was able to visit my mum during the various lockdowns last year we met in the garden of her care home, a very peaceful and relaxing place, and she was able to talk to me about the flowers and plants as if she had been responsible for them and this gave us a common ground to have a chat.

Gardening helps to stimulate all the senses: touching petals and feeling soil; smelling the perfume of flowers; sensing the wind and sun on skin all help to stimulate a person living with dementia. At the same time, the calmness of being in the present moment helps support and allow enjoyment of any gardening task in the here and now. There are physical benefits, too, for people who may not be able to easily get out and about; these vary from dexterity needed for small fiddly tasks to the more strenuous elements of gardening all done out in fresh air, which we all know is good for the soul.

There are a few safety considerations to bear in mind when gardening with someone with dementia. Here are six top tips to consider:

Safe tools: for people with cognitive loss, tools with rounded edges are better than sharp-edged implements. Larger handles are easier for adults who might have difficulty with hand coordination.

Cold water: on a hot day, people may forget to drink and that can put them at risk of dehydration. Make sure your loved one has a non-breakable bottle of water with them and remind them to drink.
Non-toxic plants: someone living with dementia may easily mistake plants (especially those with an appealing fragrance) for food. As you help your loved one create their garden, make sure the plants you are providing aren't toxic.

Sun safety: take good sun-safety precautions. Make sure you both wear hats to shield your face and apply ample sunscreen. Avoid gardening during the middle of the day when the sun is at its peak.

Rest breaks: dementia often creates mobility challenges, so have safe spots in the garden to rest. Benches and seats can be strategically placed to make it easier to take a break but still allow your loved one to feel included.

Container gardens: almost any plant can be grown in a pot or raised bed, making gardening easy, inexpensive and safe. Herbs and vegetables are fun to grow and harvest for summer cooking.

The social aspects of planning and choosing plants and seeds can help retain memories and language and aid with cognitive, as well as mental, wellbeing. Plants, especially flowers, are great triggers for memories. This can be especially rewarding for older care home residents, where popular favourites can bring a sense of the domestic garden. Familiar plants can have powerful associations for people living with dementia and memory loss. If possible, involve people in collecting memories and stories so you know what plants you need, for example by making collages of pictures of flowers and plants. Marigolds, forget-me-nots, pansies and snapdragons are old favourites along with potatoes, runner beans or fresh mint for making tea. Garden sheds with tools can bring back happy memories.

Being able to care and nurture plants may help the person living with dementia feel less helpless as they can take control of looking after the plants. As Tony, who lives with dementia said:

"As people with dementia, we feel a lot like seeds. Lock us away or simply ignore us and we will rot and die. But, with a little understanding, support, and encouragement, we can continue to flourish, be creative and contribute to our society.

" A great resource to look at (and from where some of the information for this article came) is: https://www.alzheimers.org.uk/sites/default/files/2018-05/AS_Designing_Garden_Guide_Web.pdf

Mairi Taylor