Summer 2021 - Issue 164

Barrow Catch Up
STOP PRESS!!

Boscaps is back!

We are delighted to be able to announce that BOSCAPS (Barrow Holiday Play Scheme) is back in 2021 from 2nd to 6th August.

More details are available on the BOSCAPS website: http://boscaps.co.uk and Facebook page.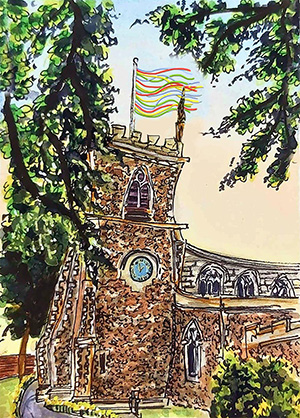 Bishop Beveridge Back in Business!

Open Day, Thursday 1st July

That's a date for your diary as the Bishop Beveridge Club welcomes members back to the club house for morning and afternoon sessions with refreshments. The exact times will be announced in the newsletter that members will be receiving in the near future.

You will notice several changes at the club: particularly the creation of open space made possible by removing the huge cherry tree in the front garden.

Inside, the carpet has been cleaned, the floor re-sanded, new ceiling lights and extra electrical wall sockets fitted. The piano has gone, to be replaced by a keyboard; and new cupboards and bookshelves have been purchased.

You will soon notice that the most impressive improvement has been to technology: a new audio-visual system has been installed. This will have a real beneficial impact on future events at the club. We expect that you will hear, and see, it in action on the 1st July Open Day, so put the date in your diary, we look forward to seeing you all.

Val Gillings
Mothering Sunday in Holy Trinity's 'Raise a Ribbon for Her'

If, like many Barrow residents, you were puzzled by the sight of a quantity of coloured ribbons streaming out horizontally from the flagpole atop Holy Trinity Church tower in the brisk winds of mid-March, you will be interested to know that they were there as part of the celebration of mothers and other women who have played a significant part in people's lives. Written on the ribbons were the names of 425 nominated women. The activity was received so enthusiastically that the church council intends to repeat this next year and is anticipating many more names.

Tree of the Month – May

May's tree of the month, awarded by Wild about Barrow, is considered to be a living fossil and is the Maidenhair tree at the junction of Cotes Road and High Street. It was planted in 1998 to celebrate the new Twinning Association. Its beautiful, fan-shaped leaves were unfurling in China millions of years before our Barrow Kipper was swimming in the prehistoric warm water which covered Barrow at that time.
Bridge Over Troubled Water
what's happening in Breachfield Road

The trees mentioned in this feature in the last issue are still there. A submission was made by residents that when planning permission was granted, Jelson had stated no trees would be removed for the creation of the footbridge. The council is currently considering this.

Sheila helps to identify staff and pupils

After Sheila Williams' letter to Barrow Voice, the Heritage Group contacted her with a photo from Humphrey Perkins High School in 1966. Sheila was delighted to be able to identify 40 of the 46 staff members. She also was able to supply a list of staff who taught with her between 1960-1967. The Heritage Group have also had help from Andrew Webster, Trish Marshall, Mike Morley and John Nurse.

Sow those wild seeds

Alison Rushton and Annette Richardson have been working hard sowing wildflower seeds in the Millenium Park. Take a walk through the park and enjoy the colours and the insects of this developing meadow. Volunteers are always needed to help increase its biodiversity. If you want help contact: wildaboutbarrow@gmail.com
| | |
| --- | --- |
| Maidenhair tree (Ginka biloba) | Alison enjoying a well-earned break |
| | |